Last summer I picked this running 1983 J10 up for a nice $800.
The rundown.
-238 engine
-T177 transmission(Same as T176 except longer shaft)
-D44 Front/AMC 20 rear 3.15 gears
-NP208 Transfer case
-Motorcraft 2150 carb
The good.
-130k original miles, engine was rebuilt less than 20k miles ago.
-New NP208 Transfer Case
-New Fuel Pump
-New Water Pump
-New Distributor/Caps
-New Shocks
-New adapted Ford Carb(MC2150)
-Minimal body rust, slight bondo on the bed before and after the fenders.
-Good tailgate(Except for that -one- dent...)
-All wiring/functions are good and functional and original...except Back up lights and Fuel Gauge
-Inside is in fantastic shape, except seats are stained, and slight tears on driver side seat.
-Some old original jeep hub caps.
The bad.
-Transmission is shot, First and Reverse works. Second and Third is gone, needs rebuild or swap.
-Rear Drum brakes are locked up, they rotate, but drag.
-Slight rust damage underneath. (I shouldn't even mention that cause it's pretty awesome how little there is compared to most of your rigs
)
-Bald/dry rotted 29 inch tires.
Got it loaded up on a flatbed, and brought home.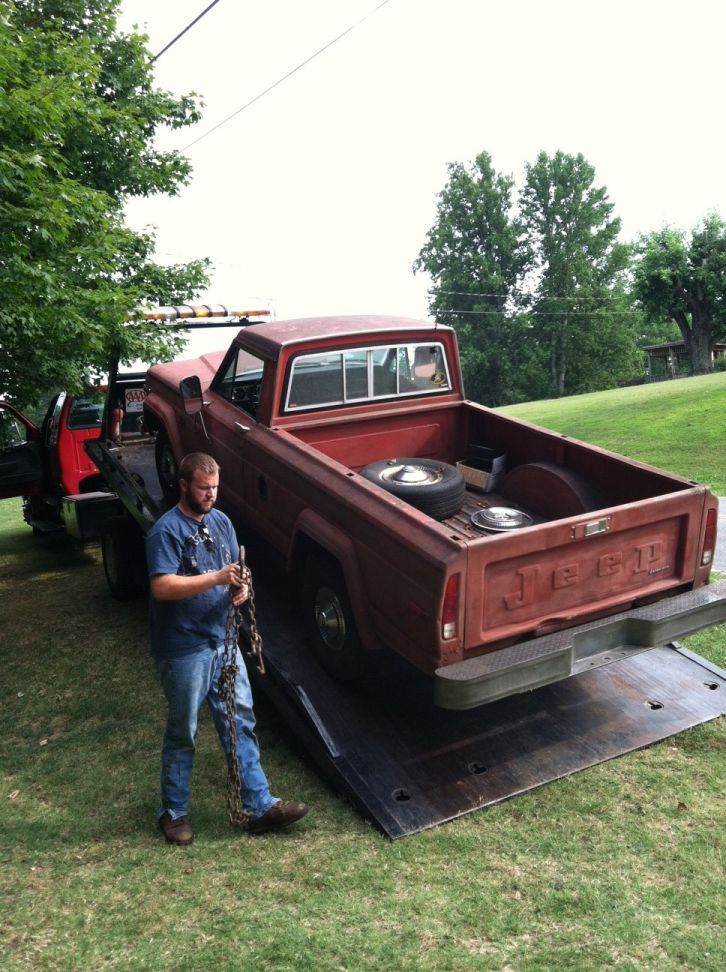 Fantastic shape isn't it?
Pulled the transfer case and transmission to see about a rebuild or a swap...turns out the 'blown transmission that sounds like a bucket of bolts in 2nd and 3rd just needed a new input bearing as the old ones cage had broken into pieces)
Fixed the bearing(From Morris4x4!) and attached the backup light wire(it was dangling) and took it for a spin and..... it wouldn't go over 25 mph. On a flat road.
So!
Started working on it off and on, dropped the fuel tank - checked the fuel sender unit and it was rusted to junk.
Bought a BJ's Offroad and replaced it.
Than began replacing all the fuel lines, as they had dry rotted out and I believed that it was sucking in a lot of air with the fuel.
Picked up some used new shoes and rims. (33's on five slot rims - worn down to about 31.5")
At the same time as replacing the sender unit, I had some new straps fabbed up for my skid plate as one had rusted off.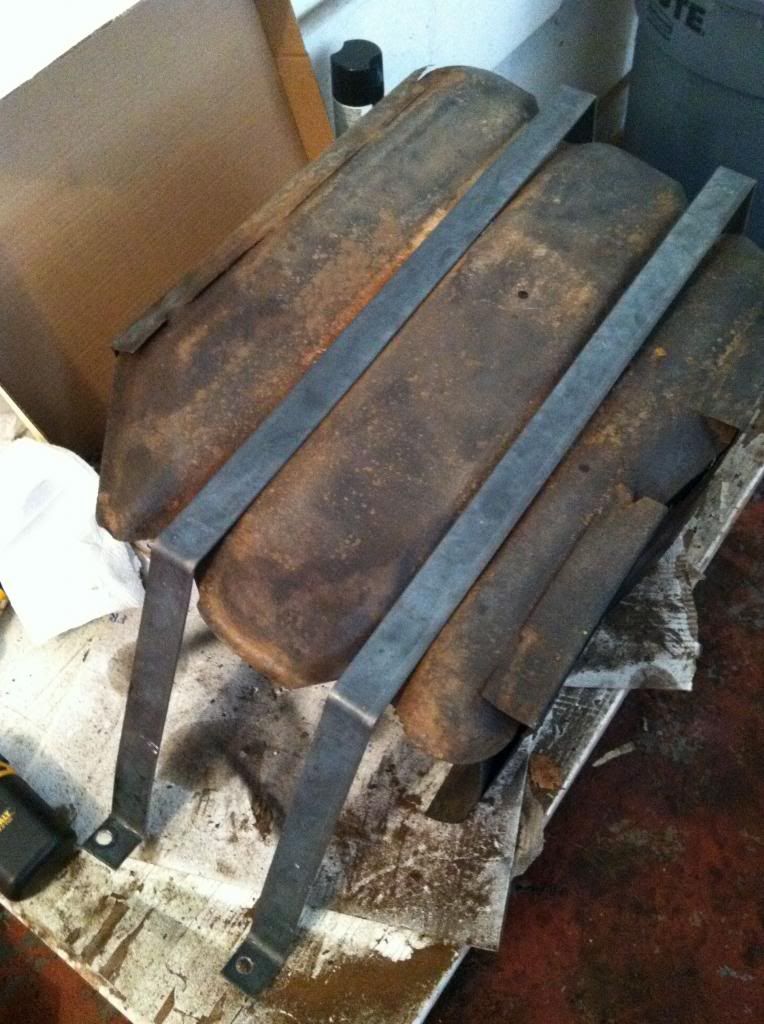 These things are -still- a PITA. The metal fab shop measured the originals, cut to the proper lengths - then folded the flanges for the bolts... so they ended up to short by almost an inch and a half. Then they threw away the original.
Now I'm on my second set, which needs the holes redrilled because it bows out under the tank when trying to install them. Ugh.
Cleaned the seats up as good as possible.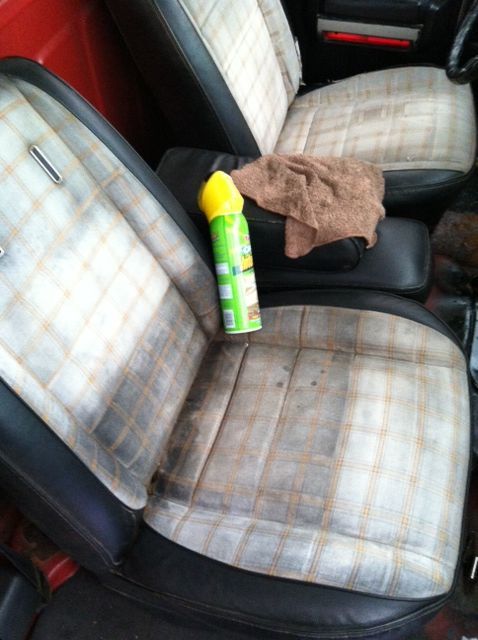 Pulled the carpet and saw the holes in the floor pans.
Not so bad, the driver side is worse. I can't find a pic, but they replaced half the driver side with a piece of tin roofing.
The floor pans will be done after I make it driveable again. As I don't have a welder yet.
Opened up the front D44 pumpkin and replaced the fluid.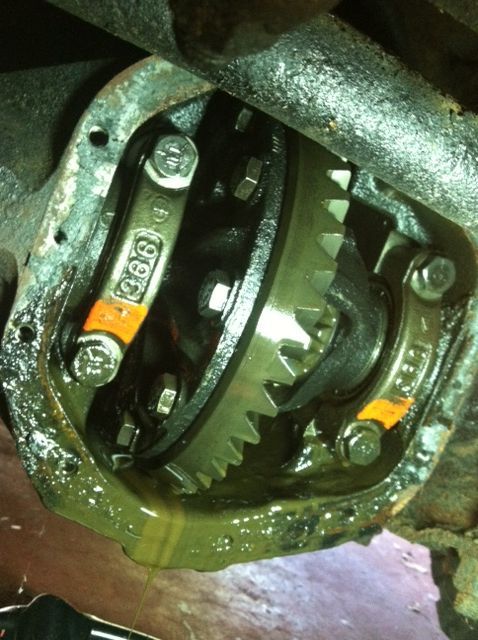 A little gross. Probably the original fluid.
And this is where I am.
I've a lot of small things to do, and a few big things.
-I've a slightly used HEI Distributor to install.
http://www.summitracing.com/parts/sum-850047
-The Rear axle needs a new pinion seal, as well as getting the diff cover off to check and refill - those torx bolts have stumped my repeated attempts.
-Got to get those fuel tank straps finished.
-Haven't fired it up since I replaced fuel sender and lines. (Hasn't been fired in almost a year now)
-Possible Carb rebuild.
-Need lift.
-Fix transmission leak where it bolts up against the transfer case.
-Reattach E-Brake.
-Completely go over front and rear brakes.
-Get that stinking mud daubber nest off it....
-Need new fuel filter that I can hook the return line up to. (Current one doesn't have return hookup)
-New U-joints all around.
And well, lots and lots more. Lots of minor stuff and lots of major 'wishful stuff'... like new seats.
I've a 2001 Jeep TJ that is my current daily driver, that gets a wonderful 12.5 mpg. The plan is to turn this truck in my DD and the TJ into my designated 'toy'.
The goal is by winter to have this sucker up and running without problems. It needs to survive a 50 mile round trip to work on the interstate.